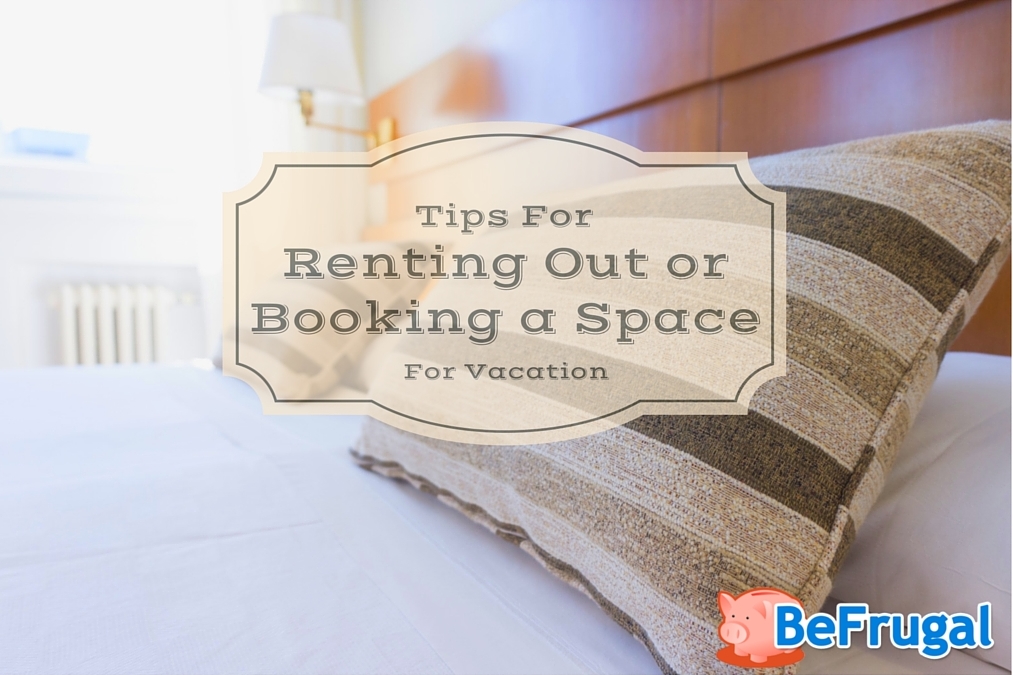 Renting out your space for a short period of time is a great way to make extra money as well as help travelers find a nice place to stay within their budget. As a guest, not only are you more likely to spend less than at a pricey hotel, you will get to experience your destination in a more intimate way and "live like a local."  Before making the decision to either rent out your own space or book a place to stay, check out these tips below:
Renting Our Your Space
Research Your Local Laws: Before listing your space on any website, it is important to make sure you are complying with your local laws regarding short-term renting. In some states, it is forbidden to rent out your property without obtaining a permit or a license. Avoid getting into any trouble by making sure you know your state's zoning and administrative codes beforehand. You should also research your state's laws regarding taxing. Some states have a 14-Day Rule, which doesn't tax you for what you earned for rentals 14 days or less. Some also allow you to deduct any additional costs you may have used for your guests from your rental income.
Listing on multiple platforms: When looking to make money for renting out your space, it is best to list on more than one platform. The more platforms you list your space, the better chance you have at getting it booked. While websites like AirBnB and HomeAway are arguably the most popular, there are many similar sites like FlipKey, VRBO, and RoomoRama. There are also a handful of websites that specifically cater to certain groups of people who may have a hard time getting accepted at other sites. An example is MisterBandB, which was created for traveling same-sex couples who were unable to book a place at other websites. Another is NoirBnb, specifically made to help people of color find a place to stay while visiting a new city.
High-Quality Photos: When listing your rental, make sure you have the best quality photos to showcase your space. Profiles with higher quality pictures are more likely to be chosen over profiles that have been taken with a phone or web-cam. Some hosting sites even allow you to pay for one of their professional photographers to come in and take pictures of your home, giving any potential guests a clear and accurate look at what exactly they should be expecting when they arrive.
Screening Your Guests: While you may want to accept a guest right away, you should screen them before allowing them to stay in your home. Hosting websites allow you to message anyone interested in renting your space, giving you the opportunity to learn more about the person and if they would be a good fit. You can also check the guest's profile to see if they have passed the site's background check or if they are verified. These sites also allow hosts to rate their guests, allowing future hosts to make a decision as to who is more responsible and respectful of other people's space.
Booking a Space
Budgeting: When booking a space while traveling, you should consider your budget and any additional fees. Many hosts charge their normal rate, as well as cleaning fees and additional guest fees. During peak seasons of the year such as summer vacation and the holiday season, rates are often increased. Learn about these fees upfront, and if they aren't listed, message the host to ensure that you know exactly what you'll be paying. You can also avoid any additional fees by learning your host's house rules and making sure that when you leave, everything is exactly how it was found. Hosts have the right to charge you extra if their home isn't in a state they deem satisfactory upon your departure.
Reading Reviews: Before you request a space, you should read the reviews about the host and their home. Learning more about who you will be paying not only ensures that you get your money's worth, but in a safe environment as well. If a listing is not marked as verified, chances are they did not pass the background check the site gives to hosts. Check to see what past guests have to say about their stay to see if this is somewhere you feel comfortable staying. Also, make sure that the place listed is of the same quality that is pictured on the host's profile.
Being Respectful: Unlike a hotel, you will not be waited on and cleaned up after while staying in someone else's home. It is crucial that you clean up after yourself and know what boundaries should not be crossed while you are visiting. You should also stick to the times you have discussed with your host and let them know of any schedule changes ahead of time. You also might not be the only house guest they have during your stay. Being respectful to the host and other guests will make your stay a lot smoother and will better increase your chances of receiving a good review once you leave.
Following these tips will make both renting and booking a space easier and more efficient for everyone. Don't forget about checking for any cash back offers to further help you save money while traveling.