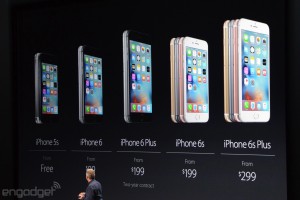 Yesterday Apple announced the new iPhone 6s and iPhone 6s Plus. While a shiny new phone with brand new features may interest some - especially those nearing the end of their contract - this news is also great for bargain hunters. On September 25, prices on the older iPhone models will drop:
iPhone 6: originally priced at $199, will be available starting at $99.
iPhone 6 Plus: originally priced at $299, will be available starting at $199.
iPhone 5s: previously priced at $99, will soon be available for free.
The above prices indicate the cost of a phone purchased with a 2-year contract.
If you're in the market for a new iPhone, these slightly older models are now much more affordable, and the features are still relatively new: the iPhone 5s only debuted two years ago.
Another change announced at yesterday's event? New leasing plans and upgrade options if you buy your phone directly from Apple. The upgrade plan is similar to how you lease a car, allowing you to get a new iPhone each year. USA Today has a great explanation of these developments here.
Photo credit: engadget