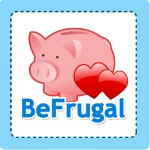 BeFrugal.com finds coupons, DIY gifts popular with couples this year
Boston, MA – A new survey from BeFrugal.com indicates Valentine's Day is more than just a commercialized holiday for many Americans, and putting thought into gifts and time spent with loved ones is emphasized more than the amount of money spent.
An overwhelming 97% would not be disappointed in a Valentine's Day gift if they knew it was purchased at a discount or with a coupon.
Results also show how Americans think they could save money on gifts. Eighty-four percent feel it's perfectly fine to cut costs on Valentine's Day gifts, and they can think of a number of ways of doing so. More than one in two (54%) are open to using a discount code or coupon when purchasing a Valentine's Day present. Just over half (51%) approve of making a gift at home, and 49% think it's appropriate to plan a low-cost activity.
However, the demographics vary for those who agree with buying a Valentine's Day gift on a budget. While 89% of women think it's appropriate to look for ways to save, only 79% of men feel the same way.
Not everyone is last-minute when it comes to celebrating Valentine's Day. In fact, two in five (40%) typically prepare for this day with their significant other by making plans or purchasing a gift a month or more in advance. Planning time differs based on the how long someone has been in their current relationship. Americans who have been with their significant other for less than five years are more likely than those who have been paired for five or more years (52% vs. 33%) to prepare at least a month before the holiday.
About BeFrugal.com
BeFrugal.com offers solutions for shoppers looking to save stress, time and money this holiday season. BeFrugal.com is a free coupon and cash back website where you can shop at your favorite stores while saving an average of $27 per order and earning an average of 7% cash back. Shoppers can combine coupons and cash back for maximum savings at over 4,000 stores when they shop online this year. To learn more or to sign up for free, visit www.befrugal.com.
###
About the Valentine's Day Survey
The BeFrugal Valentine's Day Survey was conducted by The Omnibus Company between January 19 and 26, 2015 among 1,019 nationally representative Americans ages 18 and over, using an e-mail invitation and an online survey. Quotas are set to ensure reliable and accurate representation of the entire U.S. population ages 18 and over.