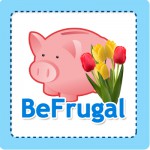 BeFrugal.com Mother's Day survey finds financial advice one of the most popular gifts given by moms
Boston, MA – A new survey from BeFrugal.com finds savvy spenders can celebrate mom this Mother's Day while making her proud. According to the results, over eight in ten (81%) Americans say their mothers have shared financial wisdom with them, and 85% say their mom taught them to be frugal.
Financial advice from Mom
Eighty-one percent of Americans received financial wisdom from their mother, and 55% said the advice was to live well within their means. The same amount shared that mom taught them how to realize the difference between want and need.
Other money advice that mom shared? Around two in five say she emphasized the importance of being self-sufficient (44%), budgeting for everything (40%) and saving more money than you spend (38%).
Moms teach frugality and smart shopping
Eighty-five percent of Americans say their mom taught them to be frugal and careful about spending. What's more, these Americans say their moms taught them exactly how to shop smart, such as to take advantage of sales (67%), budget (59%), or use coupons or shop online using discount codes (57%).
With these lessons in mind, no wonder close to eight in ten (79%) Americans think it's perfectly fine to save money on a Mother's Day gift: they learned it from the best! A few ways they would pinch pennies when celebrating the holiday include making a meal at home (60%) or buying a gift using a coupon or discount code (45%). Spending smart is a mom-approved way to honor her this Mother's Day.
About BeFrugal.com
BeFrugal.com provides shoppers with the best savings and the least hassle. BeFrugal is a free coupon and cash back website where you can shop at your favorite stores while saving an average of $27 per order and earning an average of 7% cash back. Shoppers can combine coupons and cash back for maximum savings at over 4,000 stores when they shop online this year. To learn more or to sign up for free, visit www.befrugal.com.
###
About the Mother's Day Survey
The BeFrugal Mother's Day Survey was conducted by The Omnibus Company online between March 30 and April 6, 2015 among 1,008 nationally representative Americans ages 18 and over with a margin of error of 3.1 percent. Quotas are set to ensure reliable and accurate representation of the entire U.S. population ages 18 and over.