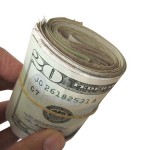 Happy Cyber Monday! Let's get right to the best advice for shopping today:
The Verge ran down a list of the 20 best Cyber Monday deals; as did USA Today.
Here are a few tips that FOX NY shared for taking advantage of Cyber Monday deals.
Forbes has plenty of advice for maximizing Cyber Monday deals and taking them further.
On another note, FOX News reports that Cyber Monday is an optimal day to book a cheap flight.
And lastly, take note of these tips to shop safely and securely online today, as noted by CreditCards.com.
Happy Deal Hunting!
Image credited to TaxBrackets.org